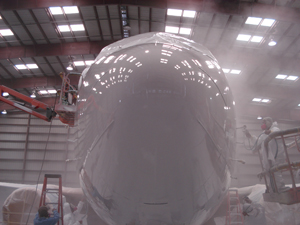 3Chem is not only interested in selling coatings, it is our goal to make sure our customers have all the necessary tools to apply 3Chem coatings properly. Therefore, we offer product and application training to all end-users. It is 3Chem's responsibility as the manufacturer to make sure all our clients know what products should be used and how to apply them. These training courses cover the following topics:
Understanding of 3Chem products and systems
Current aerospace coating theories and practices
Health and Safety
Color formulating
Mixing and application of 3Chem coatings
New and upcoming coating technologies
Practical application demonstration of 3Chem coatings
All training courses can be customized to accommodate the customer's specific need. They range from beginner to advanced levels and are offered in multiple languages.
---
Our support does not end there; 3Chem also offers on-site technical support at the customer's request. We understand application is an intricate part of the aircraft coating process. Our technical support team has over 50 years of combined experience in the aerospace coating industry and is always ready to land a hand. From the beginning of your paint job to the end; 3Chem is ready and willing to assist you.
---
Please fill out the form below to request on-site product training or technical support. We will contact you within 48 hours to discuss your specific requirements.